Monday, 27 June 2011
And so it begins....
I'm hoping to have my etsy and folksy stores live by next week so watch this space!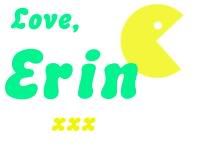 On Saturday I went to the annual Miri Haf gala day in my village. It was kinda sad because it was the last ever one. they've been holding it for about 30 years now so it really was the end of an era. There was about 7 or 8 stalls there and to be honest there wasn't a lot to interest me there but I always like to go along to support the village. However there was one really cool stall there selling viutage scarfs and handbags. The scarves were only £1 each and the handbags only £2. I decided to treat myself to a couple of scarves and a pretty cute handbag.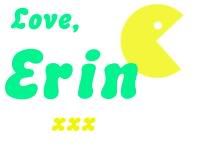 Posted by

Ohh Erin
at 13:27
No comments:

Saturday, 25 June 2011
Last night the village chapel held a fundraising 'Swish' night for our local school. The object of a 'Swish' night is basically swapping instead of shopping, you bring along some items you no longer want and swap them for something else when the starting bell rings. I brought Employment by Kaiser Chiefs, a Jamie Cullum live DVD and Sheila Hancock's autobiography to swap but the only thing of mine that was 'swished' was the book. Cringe. To be honest there was an awful lot of shite there but were a few
almost
gems. I was still allowed to get 3 items with my ticket even though no one wanted 2 of mine.
I got:
A Pilgrim ring.
These patent leather shoes, i'm not sure where they're from but they have 'look how gorgeous my feet look' written inside. They're also 2 sizes too big for me but a pair of insoles and thick tights or socks will probably sort that out. They do have a small black mark on the front as well but I think that just gives them a more vintage feel.
My third 'swished' item was an Atonement DVD still in it's cellophane wrapper but I didn't take any pictures of that because everyone knows what a DVD looks like....

Despite there not being much for me personally to choose from it was quite a fun night and I would like to do something similar again. Maybe I should try and organise another one myself.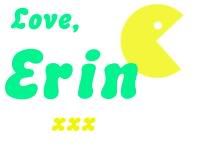 Posted by

Ohh Erin
at 10:59
1 comment:

About a week ago I decided to treat myself to a few pieces of vintage bric-a-brac from Leona Baker's (formally of Lady Luck Rules Okay) new store, Thrift-Ola. The store stocks a variety of knick knacks, kitchenalia, homewares and vintage books and magazines.
I set my self a budget of about £25 but there was so much kitschy awesomeness to choose from that I ended up spending more than double that.
Here's what I got:
A set of 3 fluoro dessert bowls.
An oh-so-cute rain bonnet in it's own little case.
2 Babycham glasses. The one on the left dates back to the 1970's and the one on the right dates all the way back to 1957.
A Babycham wall plaque.
A ceramic ash tray.
A Pair of porcelain Siamese cats.
A porcelain kitten (Isn't she gorgeous!?!)
Thrift-Ola can be found at
www.thrift-ola.com
- for those of you who love 'The Thrill of the Thrift' it really is worth checking out.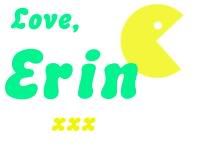 Friday, 10 June 2011
Hey!
Welcome to my new blog. I shall be using it primarily to promote my new etsy and folksy shops and i'll probably be documenting little things about my life every so often.
You can find my shops at:
www.erinydwi.etsy.com
http://www.folksy.com/shops/Erinydwi
I hope you enjoy my blog and have a wonderful day,