Does anyone remember these? It was cheese flavoured popcorn and I really liked it but obviously nobody else did as it was only on sale for about a year in the late 90s before it was discontinued. And they were only 15p!
This packet isn't the original one as I couldn't find a good enough picture of it (I spent ages trawling the internet looking for one. Saddo.) but there is one for sale on eBay and I am seriously considering buying it!
Also, does anyone remember the champagne flavoured Crunchie that Cadbury's brought out to celebrate the millennium? I remember going to my local newsagents to buy one and thinking that they would turn me away because I was under 18. HA! They were so nice and are up there at the top of the list of discontinued food products that I really wish would come back.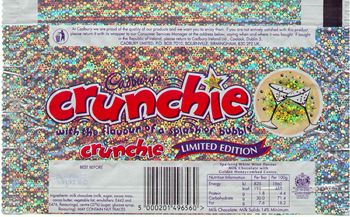 There are loads of other stuff I wish would come back. I may have to do another blog on it sometime in the future. :D